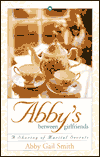 Great Faith
(part 6 of 7)
Now, I have learned over the years how to be a working participant in this area and how to make my desires known to God. I'll tell you more about how you can impress upon your mind and heart the desires you wish to manifest. But first, I must tell you about a time back before I even knew how faith worked.
Girl, this was back during the roughest times Craig and I have known. I had just finished cooking breakfast one morning and was already wondering what we were going to have for lunch. I didn't want to concern Craig too quickly, but I had just cooked the last of everything. There was nothing in the freezer, nothing in the cabinets, and I had cooked the last of the eggs and cream of wheat. I prayed. There was a peace inside that made me feel like everything would be okay, but we still did not have any food.
I finally told Craig about the dilemma. I know he could see the concern on my face but I also know he could feel the quietness of my spirit. As I explained the situation, he looked at me with a quiet, proud kind of love and said, "Baby, it's going to be alright. Wait here, I'll be right back." Craig left me in the kitchen and went into the bedroom. I could hear him rambling in the closet for a few minutes, and then he returned. He reached into his pocket and pulled out a $50 bill, put it in my hand and said, "I want you to take this and go and get what you can. I've been saving this $50 for a long time. You don't know how many times I almost pulled it out for us to spend."
With this said, I kissed him and hugged him, feeling my love and respect for him grow even stronger. To my surprise, I had tears of relief in my eyes. He looked at me and smiled. As he hugged me again, he said, "We are going to be alright. We are going to make it, Abby. Just hang in here with me, please."
Then, as he pulled away to look straight into my eyes again, he said, "I love you more than you will ever know, and together we can make it through any situation."
To Be Continued... Copyright 2000 by Abby Gail Smith (pen name of Robbie S. Redmon) All rights reserved.
Remember, I love hearing your comments!