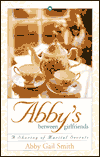 Parenting
(part 1 of 3)
One day we got on the subject of raising children. She loved her little boy, and she wanted the best for him. I cautioned her about trying to be his best friend. "He will have plenty of friends, but he needs you to be his mother. You're the one person he can look up to and depend on to tell him what is right."
Her son had been misbehaving since his father left. He was only two or three at the time. We talked about setting up a reward and consequences program with her son. I told her the main thing was that she stay in control of her household, being firm yet fair with her son. I told her that Craig and I have never looked at our two children as cute little dolls. We have always looked at them as two people we are responsible for preparing to live productively in this world. We take parenthood just as serious as our marriage. We are strict, firm, but fair parents, and our kids know they are loved. They know that our family takes priority in our lives.
And we try our best to walk right before them -- to be good examples. We use our marriage and our family life as a classroom for our kids to learn how to treat their future husband, wife and children. We model respect and open communication. We are their example, and we don't take that lightly.
With our kids, Craig and I always try to show a united force. If we have a disagreement about how to handle one of the kids, we discuss the point out of their hearing range. Some of our biggest disagreements have been over the kids and how they should be raised. Being two different people with two different opinions makes that natural, but we do respect each other's right to have an opinion. Ultimately, we know that each of us only wants the best for our children.
When our kids were teenagers, it was a challenge. I would not -- could not -- have done it without divine intervention. Anytime a situation came up, even everyday stuff, I asked God to give me guidance. I believed He would answer, and sure enough, He revealed what to say or do. My job then became putting the revelation into action. Then, when I said or did what was revealed to me and it turned out right (and it always did), the only one I could thank for it was God.
In order to be effective parents, you have to be consistent and have rules that are enforced. Kids need to grow up in an environment with structure and boundaries. As they grow and learn the importance of rules and self-control, the parents have to learn to let go.
We have to start slowly letting go, even while they are still at home. They need opportunities to test their wings before they leave the nest. They need to see for themselves that they can make good decisions. Letting go slowly while they are still at home builds their confidence.
To Be Continued... Copyright 2000 by Abby Gail Smith (pen name of Robbie S. Redmon) All rights reserved.
Remember, I love hearing your comments!