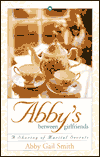 #2
(Part 4 of 4)
I remember one time when the kids were small, we made a fun-filled memory that will go down in our family history. It was the Smith Family Restaurant. It started while I was hanging around the house one Saturday, feeling like I needed a lift. I thought to myself, "If I'm feeling like I'm in a rut, I know Craig probably is too." I prayed for God to help me spread a little joy in my home, and I thanked God for His answer in advance. Then I went on about my business. Before I knew it, an idea was flooding through my mind.
I cooked a big dinner – pot roast with onions and carrots, fresh green beans with new potatoes, cream corn and cornbread muffins. While dinner was cooking, I took three pieces of construction paper, folded them in half and made three menus. The front of the menus said, "Smith Family Restaurant." On the inside, I wrote "menu" at the top, and then I listed each item we were going to have for dinner. To the side of each item, I described the dish and included the price. "Delicious pot roast smothered in onions and carrots… $5." Fresh lemonade was under beverages and gelatin was listed for dessert.
When dinner was almost ready, I told the family that I was preparing a special dinner for them, so they needed to take a bath and put on something nice. I told them to get ready and added, "Whatever you do, don't come out until I call you." I looked at Craig and said, "Please, pretty please!" He agreed and then I was off to help Clayton pick out the suit he had almost outgrown.
While they were dressing, I set the dining room table with our best china and candles. Then I gave each one some play money and reminded them not to come out until I called. "What is this money for?" they asked. I said, "You'll see!"
I went back to the kitchen and put my apron on. Next, I put on one of Craig's classical albums to play soft, sophisticated music. I lit the candles and picked up a pencil, a small note pad and the three menus. After turning off all the lights, I invited them in.
I could hear the bedroom doors opening and their mumbles as they made their way down the hallway. As they came toward the dining room, they saw the big sign over the dining room door. "Right this way, please," I said as I ushered them into the dining room. You would not have believed your eyes; my son actually pulled the chair out for his sister. Don't tell me kids don't learn from watching their parents.
When they were all seated, I passed out the menus. I stood back to let them make their selections, and then I took their orders. I took up their menus and went to the kitchen to prepare their plates. I could hear Craig saying, "That's right, Angel. Your napkin goes on your lap." Then he asked Clayton, "So, son, what did you do outside today?" As Clayton was finishing his answer, I was serving dinner. Craig and Chloè said, "Wow! This looks good!" Then Clayton said, "I didn't order green beans." I replied, "The chef said for you to eat all of your vegetables, because she made them especially for you." I stood back while they ate, and I brought lemonade and gelatin as needed. Craig tried to get me to sit down and eat, but I wanted to play my role until the end. It was so much fun!
When they finished eating, I gave them each a bill. After they paid their bill with their play money, Clayton asked Chloè, "Would you like to dance?" Chloè giggled and said, "I'd love to." Can you believe that? And Craig said, "I'd like to have this dance with the best waitress in the world." You know I obliged. I tell you, that turned out to be a magical evening. We made memories… precious memories.
Being fun to be with goes along with sharing quality time together. Be a good recreational partner. Learn to enjoy the things your husband enjoys, or at least be a pleasant participant. If he is sharing his love for a certain sport or activity with you, even if you don't enjoy the activity, enjoy his enthusiasm. Enjoy him! He'll be glad he's with you.
To Be Continued... Copyright 2000 by Abby Gail Smith (pen name of Robbie S. Redmon) All rights reserved.
Remember, I love hearing your comments!